NA Skin Salve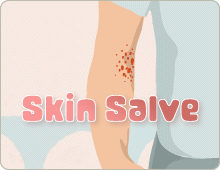 Chickweed – Stellaria media
Chickweed imparts a soothing and nourishing effect on the skin

Burdock – Arctium lappa
Burdock is traditionally used for chronic skin disorders as it supports healthy elimination.
Licorice – Glycyrrhiza glabra
Licorice works alongside Chickweed and Burdock to provide a soothing and nourishing effect on the skin
Vitamin E Base Cream
Ingredients: Shea Butter, Coconut Oil, Sweet Almond Oil, Vitamin E Oil Natural, Vegetable Glycerine, Olivem 1000, Geogard 221.
This cream base is well tolerated by those with sensitive skin.
Made in NZ specifically for Natural Ange Products.
Safe to use in conjunction with prescription steroid creams.
This products is free of petroleum based products.
For many skin complaints we recommend that you do the allergy test to identify food and environmental intolerances. This test requires a consultation with Natural Ange Ltd.
TESTIMONIALS
"Hi Angela, I really appreciate everything you've done, and your 'skin salve' is the best around! Thanks a lot – Lucia (and Josh: the eczema sufferer)."
"Hello. I have recently been introduced to your 'skin salve' and cannot thank you enough for producing such a wonderful product. Its the only thing my skin does not react to. – Polly "