ImmunoBoost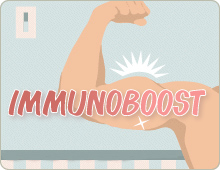 (Previously known as Immune Booster)
Astragalus – Astragalus membranaceus
Astragalus root is a Chinese herb traditionally used for impaired immunity, and prevention of winter ills and chills.
Withania – Withania somnifera
An Indian ginseng which is useful in convalescence after an acute illness. Particularly useful in conditions that are exacerbated by stress.
Licorice – Glycyrrhiza glabra
Licorice has many properties including support with adrenal fatigue, soothing to mucous membranes and licorice also provides a great taste to the herbal formula.
This product is a blend of herbal tinctures which contains alcohol. It comes as a concentrate and is best diluted in water or juice.
TESTIMONIAL: "Many years ago I had a glandular fever type illness, and the after effects impacted hugely on my energy, and feeling of wellness. Having a 'normal' life was a struggle. I had to curb many things, including the sort of work I could do, and most of my social activities. I divided time according to blocks of energy, and meanly distributed percentages to people or activities. A couple of months ago and I started taking Natural Ange's Immune Booster. I had an immediate response – the next day the chronic tiredness was gone. I have kept taking Natural Ange's Immune Booster. My ability to live life as I want has returned, and I feel immensely grateful and fortunate I should come across this product."