Skin Tonic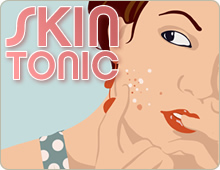 Burdock – Arctium lappa
Burdock has a long history of effective use in chronic skin disorders. It also helps to improve the elimination systems of the body.
Echinacea blend – Echinacea angustifolia / purpurea
Echinacea supports the natural healing capacity of the skin and promotes healthy immune function.
Nettle – Urtica dioica
Nettle soothes dry, cracked skin and is useful in chronic skin eruptions.
Oregon grape – Mahonia aquifolium
Supports the healthy function of the liver and thereby enhances the elimination of toxins – which eases the burden on the skin.
Licorice – Glycyrrhiza glabra
Licorice supports healthy skin and it also provides a pleasant taste for the tonic.
For many skin complaints we recommend that you do the allergy test to identify food and environmental intolerances. This test requires a consultation with Natural Ange Ltd.
According to current literature, Skin Tonic is safe to take if you are taking the oral contraceptive pill but should NOT be taken if you are pregnant or breastfeeding or with immunosuppressive medications
This product is a blend of herbal tinctures which contains alcohol. It is best diluted in water or juice.