Sleep Mix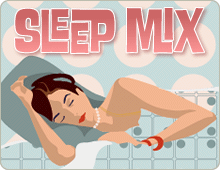 Sleep Mix herbal formula is designed to relax the nervous system and promote a restful sleep.
Combine with Active Elements 2.3 to have you dreaming in no time!
Passionflower – Passiflora incarnata
Passionflower is indicated where there is restlessness and irritability with difficulty falling asleep.
Californian poppy – Eschscholzia californica
Californian poppy recalibrates disturbed sleeping patterns, without the worry of carry over effects or addiction.
Even those with a long standing sleep issues can benefit from the use of this herb.
Chamomile – Matricaria recutita
Chamomile is the supreme 'mind-gut' herb.
Relieving digestive discomfort, restlessness and irritability, chamomile allows the body to physically fall into a deep slumber.
Licorice – Glycyrrhiza glabra
Just a small amount to make the herbal tonic taste pleasant.
All together Sleep Mix relaxes the mind and body to provide a good quality sleep – don't be concerned if it doesn't work the first night (although many say it does), keep using it and a good pattern will establish.
The herbs in Sleep Mix are non-addictive and enable you to wake refreshed – not foggy headed.
According to current literature, Sleep Mix is safe to take if you are taking the oral contraceptive pill. If you are pregnant or breastfeeding please contact me for further advice.
This product is a blend of herbal tinctures which contains alcohol. It comes as a concentrate and is best diluted in water or juice.