Stress Less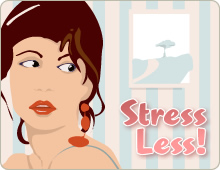 Stress Less is made up of 3 herbs which supports a happy, relaxed, calm, mood.
Useful in times of stress, or when feeling nervy.
Lemon balm – Melissa officinalis
Lemon balm is an uplifting nervine herb, which is useful for those who get stress related digestive upsets.
Chamomile – Matricaria recutita
Chamomile is another mind/gut relaxing nervine herb. Particluarly for those whose bowels get affected by nerves.
Passionflower – Passiflora incarnata
Passionflower is an excellent nervine for extremely busy people. It soothes a cluttered mind for those on a busy schedule.
Bear in mind, not to drink coffee or stimulants to keep you going. It is a quick way to deplete your minerals, in particular magnesium, potassium, calcium and B group vitamins which play a vital role in supporting your nervous system.
You may also wish to supplement with B complex and a magnesium compound (Active Elements 3.1 or 4.2 – Follow the link to do the__Mineral Appraisal__
According to current literature, Stress Less is safe to use when taking the oral contraceptive pill. If you are pregnant or breastfeeding – please advise us with your order and we will adapt the blend so that it is suitable in pregnancy.
This product is a blend of herbal tinctures which contains alcohol. It is best diluted in water or juice.